Minecraft Interactive Experience
Play Sound
0.0.23a_01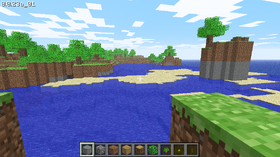 0.0.23a_01[1] is a version of Classic released on July 11, 2009,[2][3] at 14:35 UTC.[4] It is the last version of Multiplayer Test. This version is not available in the launcher, but has been archived elsewhere.
Changes
[
]
Remake
[
]
To celebrate 10 years of Minecraft, a JavaScript remake of this version was uploaded to the Minecraft website and made it possible to play multiplayer with up to 9 others through the browser. This version can be played at classic.minecraft.net.[7]
Trivia
[
]
Notch planned to refactor the version naming system after this version, removing the second zero and the "a", becoming the format "<major version>.<release number>[_<patch number>]". As an example, since this was the most recent version at the time, "0.0.23a_01" would be called "0.23_01" with such a system.[2] However, this version was never actually given this name outside of this example.

This format was also used somewhat in Beta.
Gallery
[
]
References
[
]
IRC logs on Archive.org; #minecraft.20090711.log. July 11, 2009 (UTC−5).