Minecraft Interactive Experience
Play Sound
The pre-reupload version of this version is currently missing.
This version has been reuploaded at one point in time. While the reuploaded version has been archived, the pre-reupload has not, meaning that it is currently
lost
.
If you believe you have a copy of this version, please post it on
this page's talk page
.
0.0.21a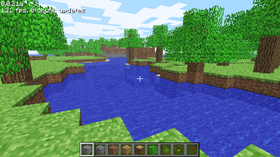 0.0.21a[1][2] is a version of Java Edition Classic released on June 22, 2009,[3] at 19:52 UTC.[1] This version is not available in the launcher, but its reupload has been archived elsewhere.
0.0.21a was reuploaded[4] at 20:09 UTC (17 minutes after release) to re-add the ability to autoclick.[5]
Changes
[
]
Now has a gray background.[2]
It is now possible to walk and change slots while in the inventory.[6]
World generation
"Carving" section of world generation has been changed slightly, causing the world to take longer to generate.[7]
Performance
Higher FPS on some computers.[3]
Fixes
[
]
Fixed a bug that caused the game to be impossible to play on MacBook.[3]
Fixed a problem with not being able to highlight blocks.[10]
Bugs
[
]
Pre-reupload: mouse autoclicking no longer works.[11]
Reupload
[
]
The following lists the changes in the reupload of 0.0.21a.
Changes
[
]
Auto-clicking now works again.[5]
Reach was increased by a little more than 2 blocks.[12]
If a plant is in the shade, then selected, its sprite will vanish.[13]
Bugs
[
]
Introduced a hang bug, causing the game to suddenly freeze at random times.[14]
Gallery
[
]
References
[
]
IRC logs on Archive.org; #minecraft.20090622.log. June 22, 2009 (UTC−5).