Minecraft Interactive Experience
Play Sound
0.0.20a_01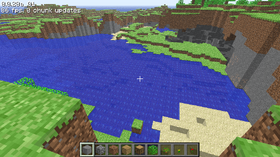 0.0.20a_01[1] is a version of Java Edition Classic released alongside server version 1.8.2 on June 20, 2009, at 21:11 UTC.[2][3]
Changes
[
]
Dirt and cobblestone positions are now switched to third and second slots in the hotbar, respectively.[4]
Fixes
[
]
3 bugs fixed
Fixed a bug that caused clients to build unbreakable blocks.[2]
Fixed a protocol error.[2]
Fixed FPS issues.[5]
Bugs
[
]
Usernames are now harder to read.[9]
Gallery
[
]
References
[
]
IRC logs on Archive.org; #minecraft.20090620.log. June 20, 2009 (UTC−5).