Java Edition Classic 0.0.20a
This version is currently missing.
While this version is known to exist, it is
missing from the launcher
and has not been archived elsewhere, meaning that it is currently
lost
.
If you believe you have a copy of this version, please post on
the talk page
.
0.0.20a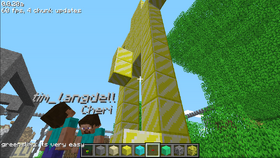 0.0.20a was a version of Classic released on June 20, 2009, at 20:53 UTC.[1][2]
Additions
[
edit
]
General
[
edit
]
Commands
[
edit
]
Changes
[
edit
]
Cobblestone and Sand are now available again through the new inventory.
The scroll wheel for block selection was inverted.[12]
Removed the FPS limiter because it would cause the computer's clock to speed up.[13]
Made the player and human skin darker.
Human mobs no longer have glitched skins.
Water texture no longer overlaps, causing z fighting.[

verify

]
Players can no longer connect to some servers.[14]
Players can no longer break bedrock in singleplayer.[15]
References
[
edit
]
IRC logs on Archive.org; #minecraft.20090620.log. June 20, 2009 (UTC−5).