Minecraft Interactive Experience
Play Sound
0.0.17a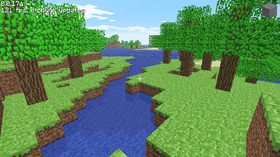 0.0.17a[1] is a version of Classic released on June 10, 2009, shortly before 19:16 UTC.[2] This version is not available in the launcher, but has been archived elsewhere.
Additions
[
]
Commands
Multiplayer
List logged-in players when Tab ↹ is pressed.
Server-side client verification in server.properties.

Set this to false would allow players to connect directly via http://www.minecraft.net/play.jsp?ip=<ip>&port=<port>
Added logged-in.txt on the server
Changes
[
]
Chat log appears when typing.
Players can no longer spam ping requests.
Private server addresses changed behavior.

The server generates an externalurl.txt when run now.

Chat is disabled in singleplayer.
The characters 0 and O now display differently.
Fixes
[
]
4 bugs fixed
Fixed /banip (it was working, but not intuitive.)
Fix spawn location to default at log in.
Server flood exploits prevention.

No more lava floods.
Players now get kicked if they place a block not available through legitimate gameplay.[

verify

]
Gallery
[
]
References
[
]