Java Edition Classic 0.0.16a_02
The pre-reupload version of this version is currently missing.
This version has been reuploaded at one point in time. While the reuploaded version has been archived, the pre-reupload has not, meaning that it is currently
lost
.
If you believe you have a copy of this version, please post it on
this page's talk page
.
0.0.16a_02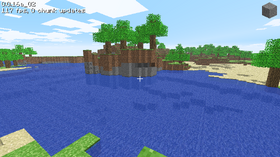 0.0.16a_02[1] is a version of Java Edition Classic released on June 7, 2009,[2] at 18:41 UTC.[3]
0.0.16a_02 was reuploaded for the first time at 10:27 UTC on June 8, 2009, to do some testing.[4] This version had a bug with an unavaliable input stream from minecraft.jar.[5]
0.0.16a_02 was soon reuploaded for a second time at 10:36 UTC to fix the unavailiable input stream bug, but this fix was not successful.[6]
0.0.16a_02 was reuploaded for the final time at 10:47 UTC[7] to fix a bug with an unavailable input stream from the minecraft.jar file.[8]
Fixed a connection problem.
Partially fixed /banip.
Fixed flickering on the login screen.[9]
Fixed being able to spawn mobs in multiplayer.[10]
Reuploads 1 and 2
Unavailable input stream from minecraft.jar.[11]

This bug was fixed by Reupload 3.
Gallery
[
edit
]
References
[
edit
]