Minecraft Interactive Experience
Play Sound
0.0.15a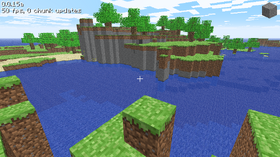 0.0.15a[1] (Multiplayer Test 1) is a version of Java Edition Classic released on May 31, 2009, at 19:04 UTC.[2][3] It is the first version of Minecraft with multiplayer compatibility. It is also the only multiplayer test version archived.
Additions
[
]
Changes
[
]
Textures
Blocks
Liquids directly under a block no longer cause an x-ray effect.
Generated structures
Trees have a new shape.

Now look more like modern trees.
General
Block particles disabled in multiplayer only.
The player can build inside other players in multiplayer.
Human mob animation changed (the head and arms no longer flail around as much).[note 1]
Notes
[
]
References
[
]
IRC logs: #minecraft.20090531.log (May 31, 2009, UTC−6)
Gallery
[
]
Original screenshots
[
]
Present-day screenshots
[
]