0.0.14a_08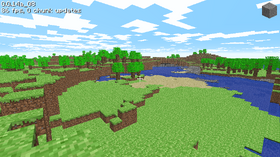 Edition
Server version

None

Release date

May 28, 2009

Downloads
al_version

5.36
5.39
0.0.14a_08[1][2][3][4] is a version of Java Edition Classic released on May 28, 2009, at 20:40 UTC.[5] This is the last version of Early Classic Creative (i.e., the last Classic version without multiplayer functions).
Changes
[
]
Improved framerate.[5]
Shadows now show up on water and lava surfaces.[6]
Trees now have a (+) shape for the top layer.[7]
Fog now gets applied to shadow surfaces.
Saplings now appear as full bright when in shade, and turn invisible when selected while in shade.
Trivia
[
]
The terrain.png file of this version has a strange, unused white texture, likely for snow.
Gallery
[
]
A screenshot showing trees first loaded in version 0.0.14a.
Sound test
[
]
References
[
]
IRC logs, #minecraft.20090528.log (May 28, 2009, UTC+2)