This version is currently missing.
While this version is known to exist, it is
missing from the launcher
and has not been archived elsewhere, meaning that it is currently
lost
.
If you believe you have a copy of this version, please post on
the talk page
.
0.0.11a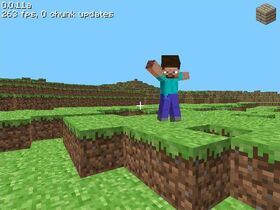 0.0.11a[1] was a version of Java Edition Classic released on May 17, 2009,[2] at 11:56 UTC,[3] almost four minutes after the release of 0.0.10a to fix the game being unplayable.
While there is a version called "c0.0.11a" in the launcher, this is not the true 0.0.11a, as it is an early development version of 0.0.12a; although called "0.0.11a" in-game, it contains files from May 18, 2009 (a day later than the release of this version), and has early multiplayer code present.
This was the first public version of Minecraft,[2] posted on the TIGSource Forum labeled Minecraft (alpha).[4]
Fixes
[
]
1 bug fixed
Fixed an issue with start and destroy functions making the game unplayable.[5]
Trivia
[
]
This version was used to mark the 10 year anniversary of Minecraft.
Gallery
[
]
References
[
]
"lwjgl IRC logs" (archived) – echelog.com, May 17, 2009 (UTC+2).
External links
[
]