Java Edition Beta 1.5_01
The .EXE file for this server version is currently missing.
While the .JAR file for this server version has been archived, the .EXE file has not, meaning that it is currently
lost
.
If you believe you have a copy of this version, please post it on
this page's talk page
.
Minecraft Beta 1.5_01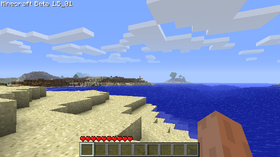 Beta 1.5_01 was a version of Java Edition Beta released on April 20, 2011, to fix some of the bugs and crashes in Beta 1.5.
8 bugs fixed