Minecraft Interactive Experience
Play Sound
Minecraft Alpha v1.2.0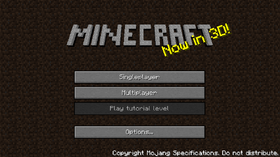 Edition
Official name
Server version
Release date

October 30, 2010[1]

Development versions

Downloads
Protocol version

3

Other instances
of 1.2
Alpha v1.2.0, also known as the Halloween Update, is a major update to Minecraft. It was released with server 0.2.2 on October 30, 2010, adding the Nether along with new Nether-exclusive mobs and blocks. It also added fishing, a new terrain generator, and other changes and fixes. This version is listed in the launcher, but only Alpha v1.2.0_02 is downloaded instead.
Additions
[
]
Blocks
[
]
Items
[
]
Craftable item that tells the time.
Mobs
[
]
When one pigman is attacked all nearby pigmen will retaliate and attack the player.
Hold gold swords.[3]
World generation
[
]
New terrain generator, featuring biomes.
A biome with sand and cacti. Ice Deserts can also be found in the code, but they're unused.
A cold biome with snow and ice. There's barely any trees as well.
Gameplay
[
]
General
[
]
Added new music tracks and sound effects.
Added new splashes:

Slow acting portals!
Try the Nether!
Don't look directly at the bugs!
Oh, ok, Pigmen!
Finally with ladders!
Scary!
Changes
[
]
Blocks
[
]
Now face the same direction as the player when placed.
Grass Block and Leaves
Are now darker in shade, and their color is now dependent on temperature/humidity values.
The player "ough" sound no longer plays when the player takes damage.
Mobs
[
]
Higher lighting values are required the deeper they are to keep mobs from spawning.
Completely removed from mob spawning code.
World generation
[
]
Fake chunks spawn at 32,000,000 blocks instead of the void.

They cannot be interacted with.
They are not solid.
Lighting stops working.
Trees, flowers, grass, and dungeons cut off.
Gameplay
[
]
Sunrise now creates a red glow at the horizon.
Pressing F1 hides the HUD and the view-model from the person's view. In third person mode, pressing F1 will create a view looking back at the player's own face.
General
[
]
Removals
[
]
General
[
]
Due to the removal of winter mode and therefore snow, it no longer becomes visually distorted at great heights.
Gallery
[
]
References
[
]