Minecraft Interactive Experience
Play Sound
Minecraft Alpha v1.0.6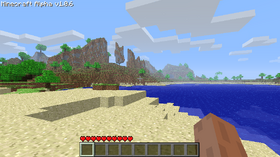 Edition
Official name

Seecret Friday 5

Release date

July 16, 2010[1]

Downloads
Protocol version

10

Other instances
of 1.0.6
Alpha v1.0.6,[2] also known as Seecret Friday 5, is the fifth seecret update which added boats, cacti and large trees.
Additions
[
]
Blocks
[
]
Player receives 1 damage when punching them, right clicking on them, or making steps on them.
They look like this in the inventory.
Non-mob Entities
[
]
Can be ridden
Break on land
World Generator
[
]
Changes
[
]
Items can now be seen being held in third person, but they are huge in scale.
Snowballs stack up to 16
Thrown snowballs don't disappear
Snow blocks only take 4 snowballs instead of 9
Leaves don't disappear naturally.
Night-time is longer.
Fixes
[
]
1 bug fixed
Fixed snow falling through snow blocks.
Gallery
[
]
References
[
]