Minecraft Interactive Experience
Play Sound
The pre-reupload version of this version is currently missing.
This version has been reuploaded at one point in time. While the reuploaded version has been archived, the pre-reupload has not, meaning that it is currently
lost
.
If you believe you have a copy of this version, please post it on
this page's talk page
.
Minecraft Alpha v1.0.5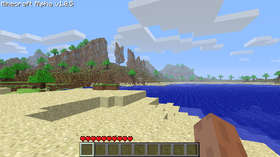 Alpha v1.0.5[2][3][4] is a version that mainly added snowballs and snow blocks as well as fixing some bugs.
Additions
[
]
Blocks
[
]
Drops 6 snowballs when destroyed.
Crafted from 9 snowballs at the time.
Items
[
]
Can be thrown but deal no damage.
Can be stacked to 64 in the inventory.
Changes
[
]
Blocks
[
]
No longer require free block above them when placing them.
Increased hardness from 0.1 to 0.5.
Drops snowballs when broken by any means other than replacing with another block.
General
[
]
Game no longer saves on crashes.
Third person view no longer causes water particles to surround the player.
Bugs
[
]
Entity shadows are glitched
Fixes
[
]
2 bugs fixed
Fixed building on snow bug.
Fixed ice rendering bug.
Reupload
[
]
Alpha v1.0.5 was reuploaded a few minutes after release to fix a bug.
No longer goes through glass.
References
[
]