Minecraft Interactive Experience
Play Sound
Minecraft Alpha v1.0.4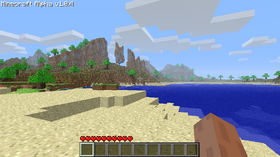 Edition
Official name

Seecret Friday 4

Release date

July 9, 2010[1]

Compilation date

August 6, 2013 (launcher)

Downloads
Other instances
of 1.0.4
Alpha v1.0.4, also known as Seecret Friday 4,[1] is the fourth seecret update which added winter mode, snowfall, and two new blocks. This is the earliest Alpha version to be available in the launcher.
Additions
[
]
Blocks
[
]
Is slippery.
Generates when water is exposed to the sky on world generation
Spawns on top of most blocks when exposed to snowfall
Cannot be obtained yet
Body positions
[
]
World generation
[
]
Winter maps
Added a new map type, featuring:

Snowfall.
Blocks exposed to sky generate with a thin layer of snow and those exposed to snowfall slowly get covered by it.
Water exposed to snowfall generates as ice.

However, water found on gravel beaches is not entirely frozen upon generation.

Upon world creation there is a 25% chance for it to become a winter world.[2]
General
[
]
Added new splashes:

"Livestreamed!"
"Haunted!"
"Polynomial!"
"Terrestrial!"
"All is full of love!"
"Full of stars!"
"Scientific!"
"Cooler than Spock!"
"Collaborate and listen!"
"Never dig down!"
"Take frequent breaks!"
"Not linear!"
"Han shot first!"
"Nice to meet you!"
"Buckets of lava!"
"Ride the pig!"
"Larger than Earth!"
"sqrt(-1) love you!"
"Phobos anomaly!"
"Punching wood!"
"Falling off cliffs!"
"0% sugar!"
"150% hyperbole!"
"Synecdoche!"
"Let's danec!"
"Seecret Friday update!"
"Reference implementation!"
"Rude with two dudes with food!"
"Kiss the sky!"
"20 GOTO 10!"
"Verlet intregration!"
"Peter Griffin!"
"Do not distribute!"
"Cogito ergo sum!"
"4815162342 lines of code!"
"A skeleton popped out!"
"The Work of Notch!"
"The sum of its parts!"
"BTAF used to be good!"
"I miss ADOM!"
"umop-apisdn!"
"OICU812!"
"Bring me Ray Cokes!"
"Finger-licking!"
"Thematic!"
"Pneumatic!"
"Sublime!"
"Octagonal!"
"Une baguette!"
"Gargamel plays it!"
"Rita is the new top dog!"
"SWM forever!"
"Representing Edsbyn!"
Changes
[
]
Non-mob entities
[
]
General
[
]
Added an animated title screen.
Gameplay
[
]
The player's maximum jump length decreased from 3 to 2 blocks horizontally.
Fixes
[
]
3 bugs fixed
Fixed a bug in the mob spawn code.
The player no longer suffocates when they ride a minecart through a two block tall space.
Breaking minecarts no longer freezes the game.
Gallery
[
]
References
[
]