Java Edition Alpha v1.0.16_02
Minecraft Alpha v1.0.16_02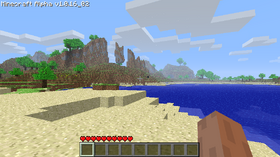 Edition
Server version
Release date

August 13, 2010

Downloads
Protocol version

14
Alpha v1.0.16_02[1] is a version of Minecraft (Java Edition) released on August 13, 2010. Corresponding server version 0.1.3 was released on August 17, 2010.
Additions
[
edit
]
Added /tell command for players to whisper things to other players
/list will show a list of connected players to the op who issued it
Changes
[
edit
]
Ops can now build in the spawn area
The server logs what admin does what, and broadcasts any admin events to all connected ops
2 bugs fixed
Gallery
[
edit
]
Herobrine in an edited screenshot from this version.
References
[
edit
]