Minecraft Interactive Experience
Play Sound
Minecraft Alpha v1.0.15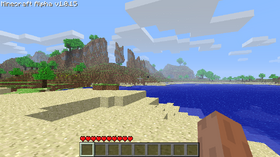 Alpha v1.0.15,[1][2] along with server 0.1.0, is a version of Java Edition that introduced survival multiplayer servers.
The corresponding blog post is labeled as "Minecraft Alpha v1.0.14", which is a duplicate of a previous version released four days earlier, on July 30.[3] The date of the jar and the timestamp of the post clearly show that it is Alpha v1.0.15 instead.
The server version was not released at the same time,[4] but instead was released one day later, on August 4, 2010.[5]
Additions
[
]
Arm-swinging animation added, viewable in multiplayer and in third person view.
Changes
[
]
Blocks
[
]
Items
[
]
General
[
]
Players can now enter the IP for a server other than Mojang's official server.
Fixes
[
]
2 bugs fixed
The player can no longer move while on the inventory screen.
The player can no longer place blocks in the same space with entities if it is covered with snow.
Gallery
[
]
References
[
]