Minecraft Interactive Experience
Play Sound
Minecraft Alpha v1.0.13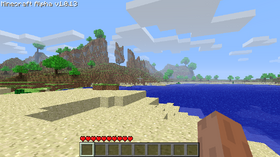 Alpha v1.0.13[2] is a version released to fix bugs and to work towards multiplayer.
Additions
[
]
General
[
]
Re-added all splashes
Added new splashes:

Flaxkikare!
Jason! Jason! Jason!
Hotter than the sun!
Internet enabled!
Autonomous!
Engage!
Fantasy!
DRR! DRR! DRR!
Kick it root down!
Regional resources!
Woo, facepunch!
Woo, somethingawful!
Woo, /v/!
Woo, tigsource!
Woo, minecraftforum!
Woo, worldofminecraft!
Google anlyticsed!
Now supports åäö!
Give us Gordon!
Tip your waiter!
Very fun!
12345 is a bad password!
Vote for net neutrality!
Lives in a pineapple under the sea!
MAP11 has two names!
Omnipotent!
Gasp!
...!
Bees, bees, bees, bees!
Jag känner en bot!
This text is hard to read if you play the game at the default resolution, but at 1080p it's fine!
Changes
[
]
Slimes have new look.
The client now checks if two instances of the game try to save to the same level, and quits if it does.

It is checked with a session.lock file.

Multiplayer progress.
The arm no longer gets stuck if F5 is disabled while moving, as well as holding an item.

As a result, the arm no longer has the idle animation when the inventory is shown.
Fixes
[
]
1 bug fixed
Fixed a crash related to lighting.
Gallery
[
]
References
[
]