Java Edition Alpha v1.0.0
Minecraft Infdev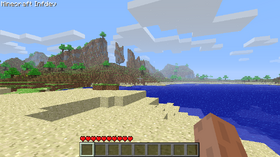 Edition
Release date

June 30, 2010

Downloads
Alpha v1.0.0 is the first Alpha version of the game, released on June 30, 2010.[1] It was the second of two versions released on June 30, 2010, and was labeled "Minecraft Infdev";[2][3] Notch retroactively decided this version would be named Alpha v1.0.0 upon the release of Alpha v1.0.1.[4]
On June 29, 2010, about 19 hours before the official release, there was a downloadable version to test the offline client.[5]
Changes
[
edit
]
General
[
edit
]
Rendering
Spawn Y is set to 64 if it is at or below 0.
References
[
edit
]