Minecraft Interactive Experience
Play Sound

It has been suggested that this page be moved to Java Edition Infdev 20100630-2.
If this move affects many pages or may potentially be controversial, do not move the page until a consensus is reached.
[discuss
]
Reason: There were two infdev versions and it's probably better to consider them both infdev versions (leaving a redirect for this one obviously)
When moving, be sure to use the appropriate tool instead of simply copying and pasting the page's contents, to preserve edit history.
Minecraft Infdev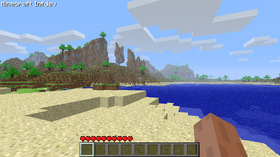 Edition
Release date

June 30, 2010

Downloads
Alpha v1.0.0 is the first Alpha version of the game, released on June 30, 2010.[1] It was the second of two versions released on June 30, 2010, and was labeled "Minecraft Infdev";[2][3] Notch retroactively decided this version would be named Alpha v1.0.0 upon the release of Alpha v1.0.1.[4]
On June 29, 2010, about 19 hours before the official release, there was a downloadable version to test the offline client.[5]
Changes
[
]
General
[
]
World generation
Changed sand and gravel generation.
Spawn Y is set to 64 if it is at or below 0.
References
[
]