Minecraft Interactive Experience
Play Sound
21w10a is the thirteenth snapshot for Java Edition 1.17, released on March 10, 2021,[1] which adds lush caves and new deepslate variants.
Additions
[
]
Blocks
[
]
A cracked variation of deepslate bricks.
Obtained by smelting deepslate bricks.
A cracked variation of deepslate tiles.
Obtained by smelting deepslate tiles.
Added deepslate ore variants for copper, emerald and coal ore.

Do not generate by default; they only have been added for use by creators of maps and data packs.
Like other deepslate ores, they can be used in blasting and smelting recipes like normal ores.

Again, like other deepslate ores, they will unlock these recipes in the recipe book.
An infested variant of deepslate.
World generation
[
]
Currently the biome is only accessible in single-biome worlds.
Adaptive to the environment: every type of cave generation can be a lush cave.
Moss covers the floors and ceilings, along with moss carpets and grass on the floors.
Spore Blossoms grow from the ceiling and drip particles.
Contains azalea bushes (both variants).
Cave vines with glow berries grow from the ceiling and light up the caves.
General
[
]
Are now included for all supported render states.
Any shader except for the blit shader can also be replaced in resource packs.
For now replacing these shaders is not officially supported and the way it works may change in the future.
Current rendering engine uses a system similar to the post processing shader pipeline. There are some differences between both system that cater to the slightly different requirements.
Added the coal_ores, copper_ores, and emerald_ores block and item tags.

Contain both the normal and deepslate ores of each ore type.

Added the lush_ground_replaceable block tag.
Changes
[
]
Blocks
[
]
The textures of these ores have been changed.

Iron ore and deepslate iron ore no longer have streaks, better matching the appearance of other ores.
Diamond ore closer resembles deepslate diamond ore.
The texture has been changed.
Can now be smelted back into deepslate.
Both the top and sides textures have been changed.
Deepslate can now be placed along any axis.
Textures in caves now generate with a random rotation.
Changelog states they can now be waterlogged, though this is not the case.
Using bone meal on it now spreads moss to blocks on any height.
Items
[
]
The item model has been changed back to a dedicated texture.

Similar to tridents, the spyglass still uses a 3d model in the hand.
The texture is different from the original item texture.
Mobs
[
]
The maximum size that slimes can be summoned with is now 128.
World generation
[
]
Now are much less common.
The fossils in the deepest part of the underground generate with Deepslate Diamond Ore instead of Coal Ore.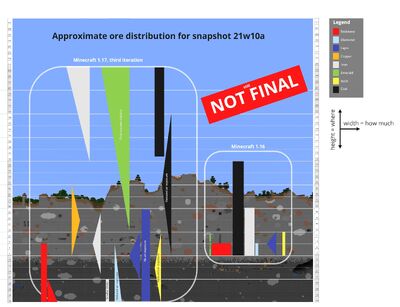 Ore distribution
Command format
[
]
/give
The give command can only give up to 100 stacks of items at a time (e.g. 6400 stone or 100 iron swords)
Can no longer set a player's spawnpoint to areas that are out of the world.
Gameplay
[
]
Glowing is now based on the outline of all layers on an entity, not just the base layer.
General
[
]
Game library updates
Rendering is now using OpenGL 3.2 core profile.

All fixed function rendering has been replaced with shader based rendering.
Changed the splash "OpenGL 2.1 (if supported)!" to "Now on OpenGL 3.2 core profile!"
Glow item frames have their own subtitles, no longer using the same subtitles as normal item frames.
Removed moss block, the #flowers block tag, grass, tall grass, moss carpet, small dripleaf, big dripleaf, big dripleaf stem, and vines from the lush_plants_replaceable block tag.
Removed the azalea_log_replaceable block tag.
Fixes
[
]
From released versions before 1.17
From the 1.17 development versions
From the previous development version
MC-217020 – Gold ore and deepslate gold ore textures are inconsistent.
Video
[
]
Video made by slicedlime:
References
[
]