Java Edition 19w46a
Minecraft 19w46a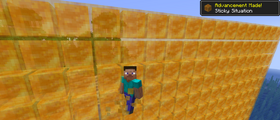 19w46a is the fourteenth snapshot for Java Edition 1.15, released on November 13, 2019.[1] It adds three new advancements and makes changes to eating in Creative mode.
Additions
[
edit
]
Gameplay
[
edit
]
Added the bee_nest_destroyed, safely_harvest_honey, and slide_down_block advancement triggers.
Added "Sticky Situation" for jumping into a honey block, breaking a player's fall.
Added "Bee Our Guest" for safely collecting honey from a beehive using a campfire.
Added "Total Beelocation" for moving a bee nest with 3 bees inside using Silk Touch.
Sticky Situation is in the Adventure tab, while Bee Our Guest & Total Beelocation are in the Husbandry tab.

All three advancements are "normal" advancements.
Changes
[
edit
]
Now only drop in creative if they contain bees.
Entities
[
edit
]
Bees now only exit through the front of the nest/hive.
Bees now sleep during rain.
Experience orbs now appear at the same spatial and temporal location as loot when an entity is killed.
Now render as translucent again.
Gameplay
[
edit
]
All foods are now edible in creative mode, including cake.
General
[
edit
]
Settings
The biome blend setting has been moved and now has descriptions per setting value.
The biome blend setting is now shown in the debug overlay.
From released versions before 1.15
From the 1.15 development versions
Video made by slicedlime:
References
[
edit
]