Minecraft Interactive Experience
Play Sound
19w13a is the twenty-ninth snapshot for Java Edition 1.14, released on March 27, 2019,[1] which adds the Hero of the Village status effect, changes transparent block mechanics, and modifies some splashes.
Additions
[
]
Gameplay
[
]
General
[
]
Added "Accessibility Options" button to the title screen.
Added the following splash text:

"Rainbow turtle?"
"Something funny!"
"I need more context."
"Ahhhhhh!"
"Don't worry, be happy!"
"Water bottle!"
"What's the question?"
"Plant a tree!"
"Go to the dentist!"
"What do you expect?"
"Look mum, I'm in a splash!"
Changes
[
]
Blocks
[
]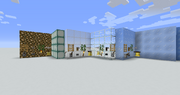 Mobs
[
]
Now spawn in raid waves 5–7 instead of just the final wave.
Can now open doors.
Raiders now move door-to-door trying to find villagers.
Will celebrate if they kill all villagers in a raid.

Added a celebration sound.
Can now ring bells.

Will now run into a nearby home when a bell is rung.

Can now be traded during raids again.
Will now sweat during raids.
Will celebrate when a raid has been cleared, by setting off fireworks and cheering.
Baby villagers now have biome-specific skins.
When a raid is defeated, the villagers will gift the player random items according to their profession:
| Profession | Possible reward items |
| --- | --- |
| Farmer | |
| Cleric | |
| Librarian | |
| Shepherd | |
| Fisherman | |
| Butcher | |
| Armorer | |
| Cartographer | |
| Fletcher | |
| Weaponsmith | |
| Toolsmith | |
| Mason | |
| Baby | |
Added a celebration sound.
Gameplay
[
]
Can now get up to Bad Omen V.

Occurs when multiple illager captains are killed.
The player only get 1 Bad Omen at a time from killing a captain.

Each person that brings Bad Omen into the village will lead to additional waves of raids.
All waves have now been rebalanced, with certain waves focusing on certain mobs, and early waves becoming less easy.
Now follow a set pattern of waves based on difficulty (Easy is three waves, Normal is five waves, and Hard is seven waves).
A bonus wave is added for every additional level of Bad Omen brought into a village, equivalent to the final base wave.
Higher level of Bad Omen means higher chance that enemies will have enchanted weapons.
Raids now end with a Victory or Defeat message.
General
[
]
Removed splashes referencing Notch:

"Made by Notch!"
"The Work of Notch!"
"110813!"
Fixes
[
]
From released versions before 1.14
From the 1.14 development versions
From the previous development version
Video
[
]
Video made by slicedlime:
References
[
]