Java Edition 17w48a
Minecraft 17w48a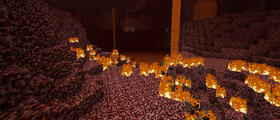 17w48a[1] is the eighth snapshot released for Java Edition 1.13.
Changes
[
edit
]
Command format
[
edit
]
General
Tweaks to the command suggestion UI.
Reworked tab-completion for coordinates.
General
[
edit
]
Crafting
Custom recipes are now loaded from data packs in data/(namespace)/recipes/(name).json.
Turning off the vanilla data pack will also remove all recipes.
Death messages
Added death message for when the player is blown up by a bed in the nether or end.

"Player was killed by [Intentional Game Design]".

Clicking on "[Intentional Game Design]" opens a link to MCPE-28723.
From released versions before 1.13
From the 1.13 development versions
From the previous development version
Video made by slicedlime:
Unlike most of the first-of-the-week snapshots up to this point, this was released on a Monday instead of Wednesday.
References
[
edit
]