Java Edition 16w42a
Minecraft 16w42a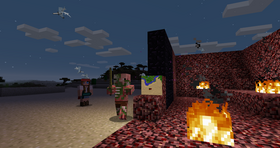 16w42a is the twelfth snapshot for Java Edition 1.11 and was mainly released to fix a bunch of bugs and crashes.[1]
Changes
[
edit
]
Now have a crit tag which determines whether the arrow will deal critical hit damage.
Now do more damage - their attack damage on Easy has been increased from 3 to 5, on Normal 4 to 9, and on Hard 6 to 13 × 6.5.
From released versions before 1.11
From the 1.11 development versions
MC-108351 – No play placed sound and subtitles, when placing blocks on cake.
MC-108405 – Maps break after leaving the End.
From the previous development version
Video made by slicedlime:
16w42a was previously removed from the launcher for some time, but was added back in September 2018.
References
[
edit
]