Java Edition 16w21a
Minecraft 16w21a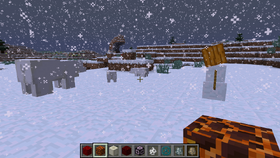 16w21a is the second snapshot for Java Edition 1.10, released on May 25, 2016,[1] which made minor changes to the behavior of blocks and items and fixed bugs.
Additions
[
edit
]
Command format
[
edit
]
FallFlying

Allows mobs to use elytra when they fall.

Mobs lose their ability to fly after touching the ground.
Changes
[
edit
]
Can now equip shields onto entities.
Rails (all types)
Bounding box for ascending rails is a full block (formerly only 5⁄32 of a block tall).
No longer emit light.
Added "Structure Integrity and Seed" to load mode (NBT tags integrity and seed respectively).
Can now teleport riders from their mounts.
Can now teleport riders from their mounts.
Can now pull items to the player.
World generation
[
edit
]
Now replace any blocks inside the portal frame ring when activating.
Blacksmiths now generate with cobblestone in all biomes (rather than acacia logs in savannas and sandstone in deserts).
Command format
[
edit
]
NBT tags
IsVillager and VillagerProfession tags are now fully removed, replaced by the ZombieType first added in 16w20a.
General
[
edit
]
fallingdust now can be summoned, making use of the params argument like blockcrack and several other particles do.

Example: /particle fallingdust ~ ~ ~ 0 0 0 0 1 0 @p 10 will summon a particle matching the color of lava (block ID 10).
From released versions before 1.10
From the previous development version
Video made by slicedlime:
16w21a was previously removed from the launcher for some time, but was added back in September 2018.
References
[
edit
]