Java Edition 16w04a
Minecraft 16w04a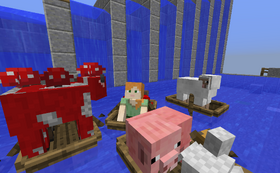 16w04a[1] is the fifty-first snapshot released for Java Edition 1.9.
Additions
[
edit
]
Command format
[
edit
]
General
Running "Searge" as the command in a command block (without a preceding "/", also case insensitive) will now set #itzlipofutzli to the previous output.
Gameplay
[
edit
]
Added a sound for taking damage from thorns.
Rain sounds are now more ambient/less loud and sound more realistic.
Changes
[
edit
]
Bounding box changed again, now 3⁄32 block tall and inset 1⁄16 from all sides (since 15w49a, was 15⁄256 block tall and only three of the four edges were inset).
Non-mob entities
[
edit
]
Will now move forward and backwards using the

forward

and

backwards

key, and will steer left and right using the

left

and

right

keys respectively.

The boat will stay in one place when pressing the

left

and

right

keys at the same time, but the paddles will be moving.

Now faster and stay at a consistent speed, unlike previous snapshots.
Now sink when underwater, or within flowing water of any depth.
Crafting recipe no longer requires wooden shovel.
Riding a boat no longer subjects water-sensitive mobs to being damaged by water, and no longer protects sunlight-sensitive mobs from being damaged by sunlight.
The player will now be dismounted onto land if possible.
Now break lily pads, instead of passing right through them.
Now no longer pick up mobs larger than the boat
Players no longer board minecarts when

used

while crouching.
From released versions before 1.9
From the 1.9 development versions
Video made by slicedlime:
16w04a was previously removed from the launcher for some time, but was added back in September 2018.
References
[
edit
]