Java Edition 16w03a
Minecraft 16w03a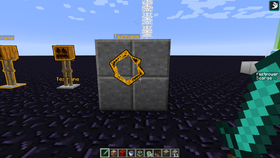 16w03a[1] is the fiftieth snapshot released for Java Edition 1.9.
Changes
[
edit
]
No longer immediately activate when placed on valid pyramids, as they had in the previous snapshot.
Non-mob entities
[
edit
]
All types of minecarts will now display their CustomName when CustomNameVisible is set.
Command format
[
edit
]
General
[
edit
]
From released versions before 1.9
From the 1.9 development versions
From the previous development version
Other bug fixes
"Some serious issues that were not reported on our bugtracker, so they don't have a MC-number or ticket."[1]
Video made by slicedlime:
16w03a was previously removed from the launcher for some time, but was added back in September 2018.
References
[
edit
]