Java Edition 15w51b
Minecraft 15w51b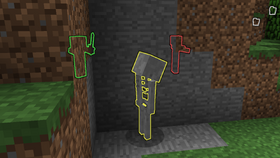 15w51b[1] is the forty-eighth snapshot for Java Edition 1.9, which was released to fix two bugs as well as a crash in the AI and pathfinding code. This is also the final snapshot of 2015.
Changes
[
edit
]
No longer enter into blocks if the game rule mobGriefing is false.
Command format
[
edit
]
NBT tags
Entity: ArmorStand

DisabledSlots (integer): Original values have changed in nature.

1 << slot = disables all interaction.
1 << (slot + 8) = disables removing.
1 << (slot + 16) = disables placing.
From released versions before 1.9
MC-6674 – When ice is melted the water doesn't flow.
MC-80586 – Silverfish go into blocks when mobGriefing set to false.
MC-83964 – Blindness and night vision don't create complete blindness anymore.
From the previous development version
MC-94419 – Server Crash - NullPointer: Ticking entity.
Video made by slicedlime:
15w51b was previously removed from the launcher for some time, but was added back in September 2018.
As with 15w51a, 15w51b was released on the latest calendar date out of all snapshots, on December 17.
References
[
edit
]