Java Edition 15w43b
15w43b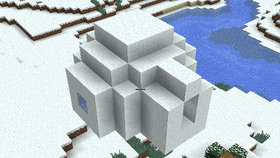 15w43b is the thirty-fifth snapshot for Java Edition 1.9, which was released to fix an issue with multiplayer from the previous snapshot and to get custom drop tables working, as well as add subtitles.[1]
Additions
[
edit
]
General
[
edit
]
Subtitles which display sounds for the hard of hearing/deaf.

Mobs have individualized subtitles, for example: "Creeper hissing".
"<" or ">" points in the direction the sound is coming from.
Changes
[
edit
]
No longer shows the flowing animation when directly adjacent to glass.
Coal drop changed to 0–2 coal, incremented as usual with Looting. This is still an increase over 15w42a.
World generation
[
edit
]
Golden apple will now always be present, and will no longer disappear if the chunk is unloaded before the chest is opened.
Made the basement walls less uniform.
From released versions before 1.9
MC-2931 – Boat location desync.
MC-35790 – Stationary water shows flowing animation at the sides of glass blocks.
MC-72878 – Name plate is inside baby villager's head.
From the 1.9 development versions
MC-90096 – Dispensers don't dispense all types of boats.
MC-90576 – Frost walker turns flowing water into frosted ice.
From the previous development version
Video made by slicedlime:
15w43b was previously removed from the launcher for some time, but was added back in September 2018.
References
[
edit
]