Java Edition 13w38c
13w38c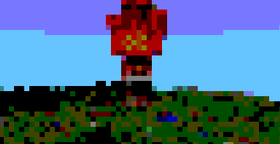 13w38c is the seventh snapshot for Java Edition 1.7.2,[1] which was released to fix some of the bugs and crashes in the 13w38a and 13w38b snapshots.
13w38c was reuploaded a few minutes after release.[more information needed]
Changes
[
edit
]
Removed as an item, like most of the technical blocks as of 13w37a.
Not obtainable with /give.
From released versions before 1.7.2
MC-3973 – Players who mine redstone lamps with Silk Touch would get a lit redstone lamp in their inventory.
From the 1.7.2 development versions
MC-32028 – Shader never disappears in F3 once it appears.
From the previous development version
13w38c was previously removed from the launcher for some time, but was added back in September 2018.
References
[
edit
]