Java Edition 13w23b
Minecraft 13w23b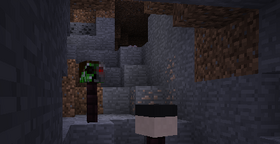 13w23b is the twelfth snapshot for Java Edition 1.6.1, which was released to fix some of the bugs and crashes in the 13w23a snapshot.[1]
13w23b was reuploaded half an hour after release.[more information needed]
Additions
[
edit
]
Gameplay
[
edit
]
Added Health Boost effect.

Also, both the attribute and the potion effect now show the hearts.
Changes
[
edit
]
Normal golden apples now give Regeneration II for 10 seconds.
New mechanics and AI.
Able to lock onto the player from much further away.
Mobbing zombies can now move when further than 32 blocks from player.
Spawn additional zombies when not being looked at.
From the 1.6.1 snapshots
MC-17222 – ALL spawners with ActiveEffects crash the game, breaking hundreds of custom maps and servers.
From the previous snapshot
MC-17403 – Golden apples only heal one heart compared to two in version 1.5.2.
References
[
edit
]