Java Edition 13w23a
Minecraft 13w23a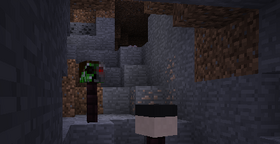 13w23a is the eleventh snapshot released for Java Edition 1.6.1.
Additions
[
edit
]
Command format
[
edit
]
naturalRegeneration
For natural health regeneration.
/spreadplayers
Spreads certain players from an origin point.
Has a Max Spread and Minimum Distance from player to player.
Can put teams together.
General
[
edit
]
Splash screens
2 new splash screens including:

"HURNERJSGER"
"What's up Doc?"
Changes
[
edit
]
Now requires gold ingots instead of gold nuggets to craft.
Gameplay
[
edit
]
Are now balanced to improve gameplay.
Instant Health nerfed by 33% (heals only 4 health points/2 hearts at level I).
Regeneration nerfed by 50% (takes 50 ticks/2.5 seconds to restore 1 health point/.5 heart at level I).

Natural health regeneration now costs hunger points/saturation points.
General
[
edit
]
Still not quite ready yet.
From the 1.6.1 snapshots
MC-13880 – Cows eat buckets.
MC-16074 – Teleporting to "NaN" (not a number) crashes the game.
MC-16290 – [crash] mob spawner crashing game.
From the previous snapshot
This updates focuses on adding many features unique to playing the Ultra Hardcore minigame.
References
[
edit
]