Java Edition 13w09b
Minecraft 13w09b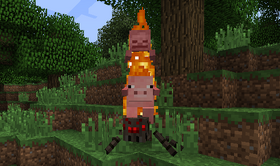 Edition
Type

Snapshot

Release date

February 27, 2013

Snapshot for
Downloads
Protocol version

59
13w09b is the twelfth snapshot for Java Edition 1.5, and was released to fix some of the bugs and crashes in the 13w09a snapshot. It was also the first version to include Minecraft Realms.[1]
Additions
[
edit
]
Command format
[
edit
]
Command: /effect <player> <effect> [<seconds>] [<amplifier>].

Maximum number of seconds is 1,000,000
Amplifier increases level of the chosen status effect

Maximum number for [amplifier] is 4
General
[
edit
]
Only added to few randomly chosen players.

Exactly 100 players were chosen.[3]

Feature is accessed through button in the Menu screen.
From released versions before 1.5
From the 1.5 development versions
From the previous development version
MC-10309 – GUI text is messed up when changing textures / Block & item textures replaced by letters or other textures.
MC-10329 – Pressing Single or Multiplayer button crashes the game.
MC-10330 – Mining fatigue broken.
References
[
edit
]