Java Edition 13w06a
Minecraft 13w06a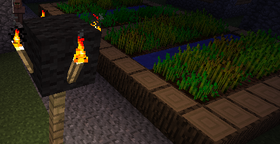 13w06a is the ninth snapshot released for Java Edition 1.5, which adds the minecart with spawner.[1]
13w06a was reuploaded later on February 7, 2013, to fix a crash on the loading screen[2] and an issue where all minecarts had turned into minecarts with spawners.
Additions
[
edit
]
Non-mob entities
[
edit
]
NBT structure is 100% the same as with normal mob spawners.
It is not an obtainable item, but can only be added as an entity with external editors.
Changes
[
edit
]
The hitboxes of fences with inner corners have changed - they now much more closely match the shape of the fence itself, rather than being its convex hull (a solid cuboid).
General
[
edit
]
Some new lighting optimizations.
Removals
[
edit
]
General
[
edit
]
Fence block collision boxes no longer lose precision at extreme coordinates.

This is without a doubt linked to the hitbox changes mentioned above.
From released versions before 1.5
From the 1.5 development versions
From the previous development version
MC-9140 – Scoreboard name duplication glitch.
MC-9214 – Objective scores displayed in the player list no longer work after a team color is applied.
From the current version, hotfixed
MC-9316 – Snapshot 13w06a Immediately Crashes upon loading world red crash screen.
MC-9319 – Normal Minecarts spawn Pig-Spawner minecarts.
References
[
edit
]