Java Edition 12w49a
12w49a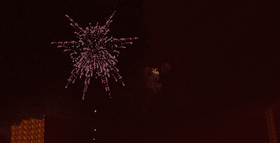 Edition
Type

Snapshot

Release date

December 7, 2012

Snapshot for
Downloads
Protocol version

50
12w49a is the first snapshot for Java Edition 1.4.6, released on December 7, 2012,[1] which added nether brick slabs, enchanted books and fireworks.
Additions
[
edit
]
Used for enchanting items.

In this snapshot due to a bug, any item could be given any enchantment in survival mode using an anvil.
New kind of shootable projectible.

Sound effects will come soon.

Fireworks are customizable by crafting
Changes
[
edit
]
General
Removals
[
edit
]
General
[
edit
]
Falling Block behavior has changed - they are no longer capable of infinitely producing dropped items at high coordinate values.
From released versions before 1.4.6
References
[
edit
]