Java Edition 12w39a
Minecraft 12w39a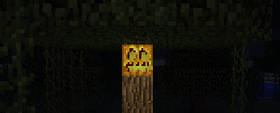 Edition
Type

Snapshot

Release date

September 27, 2012

Snapshot for
Downloads
Protocol version

43
12w39a is the eighth snapshot released for Java Edition 1.4.2.[1]
Changes
[
edit
]
Changed texture dimensions from 64x126 to 64x128.
Gameplay
[
edit
]
Several tweaks to pre-existing sounds.
General
[
edit
]
Now shows which chunk the player is in, as well as where in that chunk, next to the X and Z coordinates.
4 bugs fixed
Sound fixes:

Placing glass, glass pane, glowstone, redstone lamp or ice no longer make the same sound of breaking it.
After shooting an arrow into the water, it will not play continuously the water splash sound until removed.

Fixed witch being white for some players.
Unlit areas (black patches[2]) should be fixed for newly generated chunks and worlds.
References
[
edit
]