Java Edition 1.8.9
Minecraft 1.8.9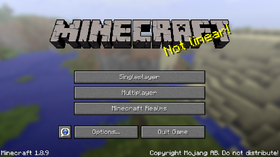 1.8.9[1] is an update to Minecraft that was released on December 9, 2015. 1.8.9 is compatible with servers running 1.8 – 1.8.8.
Additions
[
edit
]
General
[
edit
]
Added a Realms Notifications toggle to the Options menu, toggleable to ON and OFF.
Changes
[
edit
]
Will now change their texture when the computer time is set to the 24th to 26th of December to suit Christmas.
General
[
edit
]
Better Realms integration.
New buttons to configure/leave realms without having to select them first.
From released versions before 1.8
From the 1.8 development versions
MC-57016 – Water and lava glitches and shows blocks as if air
MC-72469 – Fence gate smooth lighting inconsistent
From the current version, hotfixed
Video made by slicedlime:
Despite this version having fewer features and being unsupported (like Java Edition 1.7.10), it is still popular among minigame players and plugin servers, due to a common dislike of 1.9 features such as the Combat Update's changes to PvP, and also the instability on newer versions.
This was the last release to be compatible with a previous server version, until 1.16.5.
This version was released on the same day as 15w50a.
References
[
edit
]