Minecraft Interactive Experience
Play Sound
Minecraft 1.8.9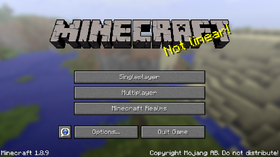 1.8.9[1] is an update to Minecraft (Java Edition) that was released on December 9, 2015. 1.8.9 is compatible with servers running 1.8 – 1.8.8.
Additions
[
]
General
[
]
Added a Realms Notifications toggle to the Options menu, toggleable to ON and OFF.
Changes
[
]
Blocks
[
]
Will now change their texture when the computer time is set to the 24th to 26th of December to suit Christmas.
General
[
]
Better Realms integration.
New buttons to configure/leave realms without having to select them first.
Fixes
[
]
From released versions before 1.8
From the 1.8 development versions
MC-57016 – Water and lava glitches and shows blocks as if air
MC-72469 – Fence gate smooth lighting inconsistent
From the current version, hotfixed
Video
[
]
Video made by slicedlime:
Trivia
[
]
Despite this version having fewer features and being unsupported (like Java Edition 1.7.10), it is still popular among minigame players and plugin servers, due to a common dislike of 1.9 features such as the Combat Update's changes to PvP, and also the instability on newer versions.
This was the last release to be compatible with a previous server version, until 1.16.5.
This version was released on the same day as 15w50a.
1.8.9 was the last version to be released during the snapshot process of the next major update until 1.16.5.
This is the last version to have the Twitch integration services.

This is also the last version to have the Super Secret Settings option.

1.8.9 has the longest wait for a minor update to Java Edition, with 134 days having elapsed since the release of 1.8.8 on July 28, 2015.
References
[
]