Minecraft Interactive Experience
Play Sound
Minecraft 1.8.8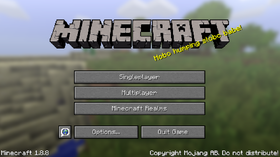 1.8.8[2] is an update to Java Edition that was released on July 28, 2015 to mainly fix security bugs. 1.8.8 is compatible with servers running 1.8–1.8.7.[2] While it was not the last update to 1.8, it was the last one before the snapshots of 1.9 started.
A pre-release for 1.8.8 was released on July 27 for players to test,[3] though the full release of 1.8.8 is identical to this pre-release.
Additions
[
]
General
[
]
Added the minigame Splatter by SethBling to Realms.[4]
Realm-wide resource packs for custom maps and minigames
Changes
[
]
Blocks
[
]
Only up to 16 layers are rendered now.
General
[
]
Now display an error if the pack version number is not 1.

Resource packs that do not match the version now require user acknowledgment to use.

Resource packs that were selected in a different version are unselected automatically.
Fixes
[
]
From released versions before 1.8.8
Private issues
From the current version, hotfixed
Video
[
]
Video made by slicedlime:
References
[
]