Java Edition 1.8.7
Minecraft 1.8.7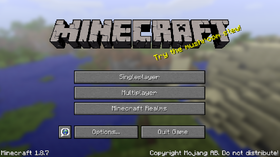 1.8.7 is an update to Minecraft which was released on June 5, 2015 to fix four security issues.[1] 1.8.7 is compatible with servers running 1.8 – 1.8.6.
Changes
[
edit
]
No longer ignore the player while seeking shelter from the sun.
From released versions before 1.8
MC-7873 – Server lag reduces knockback received.
MC-41798 – Dark borders and outlines with mip-mapping.
From 1.8
MC-54366 – Piston can push blocks one block far out of the world border.
MC-68155 – Skeletons won't shoot/ignore player when on fire/seeking shelter from sun.
From 1.8.1
MC-76166 – Wither skeletons and blazes not spawning in fortresses (besides spawner).
From 1.8.3
MC-78558 – Minecraft keeps freezing on Ubuntu 14.04.
Private issues
Video made by slicedlime:
References
[
edit
]