Java Edition 1.8.5
Minecraft 1.8.5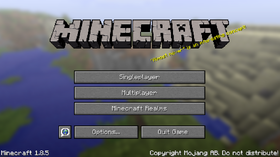 1.8.5[1] is an update to Minecraft which was released on May 22, 2015 to fix a security related issue, a scoreboard related issue and some changes to splashes.[2][3] 1.8.5 is compatible with 1.8 – 1.8.4 servers.
Additions
[
edit
]
General
[
edit
]
Added "GNU Terry Pratchett".
Changes
[
edit
]
General
[
edit
]
Removed "Happy birthday Notch!"
Removed "Happy Birthday ez!"
Removed "Notch <3 ez!"
Changed "Cooler than Spock!" to "Not as cool as Spock!"
From 1.8
From 1.8.4
MC-79632 – Phantom custom player in scoreboard/UUIDs of non-player entities on scoreboards truncated after relog.
Private issues
Video made by slicedlime:
References
[
edit
]