Minecraft Interactive Experience
Play Sound
Minecraft 1.8.4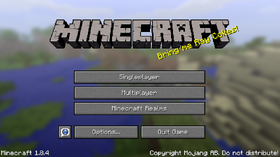 1.8.4[1] is an update to Minecraft which was released on April 17, 2015,[2] to fix various exploits and important security vulnerabilities,[3][4][5] as well as some other minor issues. 1.8.4 is compatible with 1.8 – 1.8.3 servers.[6]
Changes
[
]
Mobs
[
]
No longer follow players in Spectator mode.
Gameplay
[
]
Traveling through no longer places the player outside the portal.[7]
General
[
]
Skin customization.
Player head skins can no longer be loaded from arbitrary servers.[8]

They must now be loaded from the official Mojang servers.

Player head skin files are now required to be a .png file.
Fixes
[
]
From released versions before 1.8
MC-10979 – Hardcore single player has repeating screens and weird links.
From 1.8
From 1.8.1
MC-73504 – Nether portals place players two blocks beside the portal.
MC-77371 – Mac OS X weird keyboard when native Fullscreen.
MC-78020 – "User (formerly known as olduser) has joined" shows multiple times.
From 1.8.3
Private issues
Video
[
]
Video made by slicedlime:
References
[
]