Minecraft Interactive Experience
Play Sound
Minecraft 1.7.9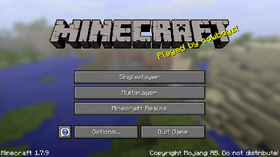 1.7.9[1] is a minor update released on April 14, 2014,[2] to fix some further issues with skins in 1.7.8, and to improve the speed it converts names.[2] It is compatible with 1.7.6 – 1.7.8 servers.
Changes
[
]
General
[
]
Naming System
Improved name conversion speed.
Skin system
Added support for the new skin system.
Loosened restrictions so NPCs and similar are still possible for now.
Servers still have to send signed blobs to show skins, but there are no more timeout & "is it for this player" checks.
Fixes
[
]
From released versions before 1.7.9
MC-4812 – Piston arm graphical glitch in the End.
From the 1.7.x release versions
MC-51786 – 1.7.5 Minecraft Realms OP bug.
MC-52719 – Outdated server, pretending to be 1.7.7 / 1.7.8.
MC-52817 – "Add player" packets and "Remove player" packets being sent out of order.
References
[
]