Minecraft Interactive Experience
Play Sound
Minecraft 1.7.5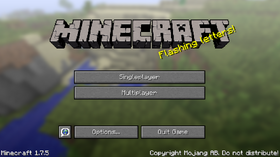 1.7.5[1][2] is a minor update to Minecraft (Java Edition) released on February 26, 2014, which primarily updated Realms. It is compatible with 1.7.2 – 1.7.4 servers.
A development testing version named 1.7.5-wip was showcased on February 18, 2014.
The server version of 1.7.5 was reuploaded on April 1, 2014.
Changes
[
]
General
[
]
Main menu button only appears if players have any realms on the version they are playing.
Admins are now able to temporarily turn a realm into a mini-game.
Added the ability to switch between mini-games and the admins' main worlds.
List of mini-games.

Cake Defense 2, by FVDisco.
Blocks vs. Zombies, by SethBling.
The Walls, by Hypixel.
Autospleef, by SethBling.
Dash of Doom, by Dragnoz.

Preparations to bring Minecraft Realms to more countries.
Servers
Several server-side performance improvements.
Fixes
[
]
From released versions before 1.7.2
MC-12545 – Certain "stacked" riding mob spawners crash the game.
From the 1.7.x release versions
MC-42174 – Chicken jockeys causing lag on multiplayer servers.
MC-46329 – Realms player count is no longer updating.
MC-47857 – Realms backups "No" button does not work.
1.7.5-wip
[
]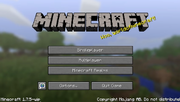 This section documents an unreleased version.
While there is proof of this version's existence, it was never released to the public.
1.7.5-wip was a development testing version for Java Edition 1.7.5, shown in a YouTube video on February 18, 2014.[3] This version tested adding minigames to Realms and allowing admins to switch between normal worlds and temporary minigame worlds.
References
[
]