Minecraft Interactive Experience
Play Sound
Minecraft 1.5.1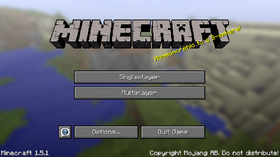 1.5.1[1] was a minor update to Minecraft (Java Edition) released on March 21, 2013,[2] which mainly fixed issues with low frame rates on certain devices. As the protocol is the same as 1.5, players on 1.5.1 can connect to servers that are running 1.5. While it was not the last update to 1.5, it was the last one before the snapshots of 1.6.1 started.
A pre-release version of 1.5.1 was released on March 19, 2013. The 1.5.1 pre-release was reuploaded on March 20, 2013, to fix a null pointer crash,[3] and this reupload became the full release of 1.5.1.
Changes
[
]
Blocks
[
]
Now take empty buckets out of furnace fuel slots.
Mobs
[
]
No longer destroy blocks if the game rule mobGriefing is set to false.
Items
[
]
Can now be combined to raise their enchantment level or combine multiple enchantments on a single book.
When combining two enchantments for a higher level variation, the player requires two of the same level enchanted book.
They are still subject to the normal enchantment level limits.
General
[
]
Performance
FPS increase, bringing levels back to what they were in 1.4
Improvements and changes.
Fixes
[
]
From released versions before 1.5
From 1.5
Notes
[
]
References
[
]