Minecraft 1.4.7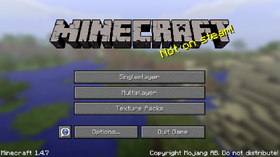 Edition
Release date

Pre-release: December 28, 2012
Release: January 9, 2013

Downloads
Protocol version

51

Other instances
of 1.4.7
1.4.7[1] is a minor update to Minecraft (Java Edition) that was released on January 9, 2013, to fix some of the bugs and crashes in 1.4.6.
A pre-release of 1.4.7 was released on December 28, 2012,[2] though the full release of 1.4.7 is identical to this pre-release, including compilation date. The pre-release is the final version released in 2012.
Fixes
[
]
From 1.4.2
From 1.4.4
MC-2902 – Signs remaining blank after edit in single player.
From 1.4.6
Other fixes
Fixed joining a server, and leaving it, then trying to connect to any server crashing the game under certain conditions.
Fixed bold text taking up lots of space sometimes.
Fixed the server crashing when an arrow shot from a dispenser hits a mob/player with Thorns enchant on their armor.
Fixed a multiplayer crash when using fireworks without a fireworks star.
Fixed long timeout when checking SRV records, and fireworks bug in creative.
Fixed lighting glitch with redstone torches.
Trivia
[
]
The pre-release of 1.4.7 was released on the latest calendar date out of all pre-releases, on December 28.
1.4.7 was released on the earliest calendar year out of all release versions in the full Java Edition release, on January 9.
Gallery
[
]
References
[
]