Minecraft Interactive Experience
Play Sound
Minecraft 1.4.5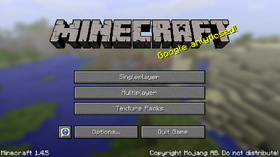 1.4.5[1] is a minor update to Minecraft (Java Edition) that was released on November 19, 2012,[2] to fix some of the bugs and crashes in Java Edition 1.4.4. It is compatible with 1.4.4 servers.
A pre-release version of 1.4.5 was released on November 16, 2012.[2] This pre-release was later reuploaded,[3] and this reupload preceeded to become the full release of 1.4.5.
Fixes
[
]
From released versions before 1.4.5
Other
Fixed LAN servers not connecting correctly.
Reupload
[
]
1.4.5 was re-released 4 days after its initial prerelease to fix MC-2497.
References
[
]