Minecraft Interactive Experience
Play Sound
Minecraft 1.19.1 Pre-release 1
1.19.1 Pre-release 1 (known as 1.19.1-pre1 in the launcher) is the first pre-release for Java Edition 1.19.1, released on June 21, 2022,[1] which fixes bugs.
Changes
[
]
Blocks
[
]
No longer reacts to the jukebox_play, and jukebox_stop_play game event.
Mobs
[
]
Allay duplication now has a 5-minute cooldown.
General
[
]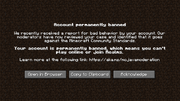 Reported players can now be banned from online play and Realms after moderator review.
The game will show a notice screen on startup if a player has been banned from online play.

The reason and the duration of the ban is shown on this screen.
Removed jukebox_play, and jukebox_stop_play game events from the #vibrations, and #warden_can_listen game event tags.
Fixes
[
]
From 1.19
From the previous development version
Video
[
]
Video made by slicedlime:
References
[
]