Minecraft Interactive Experience
Play Sound
1.19.1 is an upcoming minor update to Java Edition with no set release date. It adds allay duplication and fixes bugs.[1]
This update was originally planned to be released on June 28, 2022[2], but it has been postponed to an unknown date.
Additions
[
]
General
[
]
Messages that are not signed with the Secure Chat system, or have been tampered with by the server will now be marked.

Messages with missing or invalid signatures are marked as "Not Secure".
Messages that are detected as modified are marked as "Modified".

The trust status of messages are displayed with both a colored indicator and an icon.

The colored indicator is always visible.
The icon is only visible when the chat screen is open.

Hovering over the icon will provide more information about the trust status.

For modified messages, the original secure text will also be displayed in the tooltip.
Added report_button.png, which contains 3 new icons for the report chat function.
Added chat_tags.png, which contains 2 new icons about trust statuses of messages.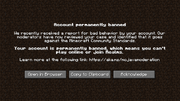 It is now possible to report a player for sending abusive messages in the chat on the social interactions screen.

Multiple chat messages can be selected for reporting.
The category of the chat report can be selected from a list of Chat Report Categories, as following:

Child sexual exploitation or abuse

Someone is talking about or otherwise promoting indecent behavior involving children.

Defamation, impersonation, or false information

Someone is damaging someone else's reputation, pretending to be someone they're not, or sharing false information with the aim to exploit or mislead others.

Drugs or alcohol

Someone is encouraging others to partake in illegal drug related activities or encouraging underage drinking.

Harassment or bullying

Someone is shaming, attacking, or bullying you or someone else. This includes when someone is repeatedly trying to contact you or someone else without consent or posting private personal information about you or someone else without consent.

Hate speech

Someone is attacking you or another player based on characteristics of their identity, like religion, race, or sexuality.

Imminent harm - Self-harm or suicide

Someone is threatening to harm themselves in real life, or talking about harming yourself in real life.

Imminent harm - Threat to harm others

Someone is threatening to harm you or someone else in real life.

Non-consensual intimate imagery

Someone is talking about, sharing, or otherwise promoting private and intimate images.

Terrorism or violent extremism

Someone is talking about, promoting, or threatening to commit acts of terrorism or violent extremism for political, religious, ideological, or other reasons.

Additional comments can be entered to provide more details and information regarding the report.

Reported players can now be banned from online play and Realms after moderator review.
The game will show a notice screen on startup if a player has been banned from online play.

The reason and the duration of the ban is shown on this screen.
Changes
[
]
Mobs
[
]
Can now dance when a nearby jukebox is playing.
If an allay is given an amethyst shard while dancing, it can "duplicate", creating another allay and consuming the shard.

It has a 5 minute cooldown between each duplication.
The newly created allay does not share the original allay's properties (such as custom name).
Controlled by a CanDuplicate tag (set to true by default).
Command format
[
]
General
The run_command click event for text components no longer supports sending chat messages directly.

Only commands are supported, so a command such as /say should be used instead.
This means values now always need to be /-prefixed.
General
[
]
Chat types added to the chat_types registry are now only used for player chat, and not system messages.

The system and game_info chat types have been removed.

Chat types have been simplified and are now only required to define chat and narration decorations.

Chat types no longer support overlays.
A system message should instead be used to display overlays.
Chat styling
The style field default value is no longer present in the JSON file for chat types.
game_info.json now contains a narration setting by default.
The social interactions screen is now available via the Pause screen when in a multiplayer game.
enforce-secure-profile is now defaulted to true for dedicated servers.
Fixes
[
]
From released versions before 1.19
From 1.19
References
[
]