Line 1:
Line 1:
 

{{EarlyDevelopment}}

 

{{EarlyDevelopment}}

 

{{Version nav

 

{{Version nav

−

|title=Minecraft 1.18

+

|title= 1.18

 

|name=[[Caves & Cliffs]] (Part 2)

 

|name=[[Caves & Cliffs]] (Part 2)

 

|edition=Java

 

|edition=Java
---
Revision as of 03:53, 16 April 2021

This page documents a major update currently being worked on.
Therefore, not all official feature names or items are mentioned.
Java Edition 1.18
1.18[2], the second release of Caves & Cliffs, is an upcoming major update to Java Edition set to release in late 2021.[1] It was first announced alongside the release of the 1.17 snapshot 21w15a.[3]
Planned additions
Completely overhauled.
Now stretch down to Y = -59.
The cavern now generates in 2 layers of different stone bases depending on the depth.

Cavern layer above Y = 0 is made up of regular stone.
Stone transitions to deepslate from Y = 0 to Y = -7.
Deepslate now completely replaces stone from Y = -8 to bedrock.

Biomes inside of caves introduced such as dripstone caves.
Improved old caves to blend in with the new generations of caves better.[4]
New carver called crack carver, which appears as a fissure on the ground, like ravines but narrower and can go very deep.[5]
New noise caves, coming in 2 forms, cheese and spaghetti.

The original caves still exist, mixing with the noise caves.
Cheese caves have large stone towers stretching from the bottom of the cave to the top.
Spaghetti caves are long, thin caves that have small aquifers and are more similar to original caves.
Biomes
Deep dark biome
General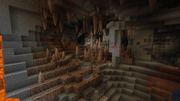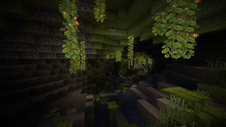 Contain cave plants and moss.
Moss covers the ceilings and floors.
Clay pools generate inside.
Gameplay
Dimming of light[unofficial name]
Planned changes
World generation
More extreme and smooth terrain.
Likely change to the generation of alternate stone types, to make them appear in larger but less numerous deposits.[7]

Possibly seen in a screenshot tweeted by Henrik Kniberg,[8] in which diorite appears to generate in a long and flat horizontal strip, rather than a small unevenly shaped patch.

Ore generation has further rebalancing and influences the surrounding stone.
The fossils in the deepest part of the underground generate with Deepslate Diamond Ore instead of Coal Ore.
Try to generate fully encased in stone at low y-levels.
References