This page documents an unreleased version.
While there is proof of this version's existence, it was never released to the public.
Minecraft 1.18/gameplay-tweaks @ 8f847b11fb2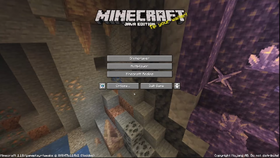 1.18/gameplay-tweaks @ 8f847b11fb2 is an unreleased development version for Java Edition 1.18 experimental snapshot 6, recorded in the morning of September 1, 2021,[1] and uploaded to the Henrik Kniberg's YouTube channel on September 3.
Changes
[
]
This development version appears to contain all of the changes introduced in experimental snapshot 6.
Trivia
[
]
The menu screen says that this version is modified.
Video
[
]
Video made by Henrik Kniberg:
References
[
]