Minecraft Interactive Experience
Play Sound
Minecraft 1.16 Pre-release 1
1.16 Pre-release 1 (known as 1.16-pre1 in the launcher) is the first pre-release for Java Edition 1.16, released on June 4, 2020,[1] which makes changes to floating-point precision and fixes several hand animations, among other things.
Additions
[
]
Command format
[
]
/gamerule forgiveDeadPlayers
Makes angered neutral mobs stop being angry when the targeted player dies nearby.
Enabled by default.
/gamerule universalAnger
Makes angered neutral mobs attack any nearby player, not just the player that angered them. Works best if forgiveDeadPlayers is disabled.
Disabled by default.
Gameplay
[
]
Added recipe book unlocks for smithing tables, though they are non-functional.
General
[
]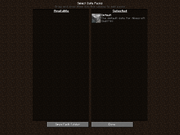 Added a new "Data Packs" button on the "Create World" screen.

Allows the player to select datapacks to be enabled in the world.
Supports drag-and-drop.

Dimensions and dimension types can now be added and changed by data packs.
Smithing recipes can now be added and changed by data packs.
Graphics
Added new "Fabulous!" graphics option

Uses per-pixel blending layers for some transparent elements.
Many of the fixes to transparent and translucent elements from 20w22a had their performance improved and are now locked behind this graphics setting.
Changes
[
]
Blocks
[
]
Now uses the "nether" color on maps.[2]
Items
[
]
Can now be obtained in Creative mode when an empty bucket is used on water.

If a bucket of water is in the player's inventory already, no additional water buckets are added when an empty bucket is used on water.
Whether this also applies to lava buckets is unknown.
Mobs
[
]
When any villager is struck by lightning, the witch it is converted to will no longer despawn, regardless of whether the villager had been traded with or not.
No longer attack players who have not attacked a zombified piglin.
Now will stop being angry if the targeted player dies nearby.
Gameplay
[
]
The advancement file "Serious Dedication" has been renamed to obtain_netherite_hoe.json. This means progress in this advancement is not kept when upgrading to this version.
The advancement "Two By Two" now requires donkeys and mules.

This advancement now checks the child resulting from breeding.

The advancement "Oh Shiny" now uses gold nuggets.
The advancement "Hot Tourist Destinations" now rewards 500 experience.
The advancement "Cover Me in Debris" now rewards 100 experience.
Changed the capitalization of "Who Is Cutting Onions?" to "Who is Cutting Onions?".
Gamemode switcher
Changed the text indicating to press F4 to select the next gamemode from "F4 Next" to "[ F4 ] Next".[

verify

]
Command format
[
]
The biome ID in the error messages for an invalid biome or a valid biome that could not be found is now in quotes.
Changed the error message for an invalid biome from "There is no biome named <biome ID>" to "There is no biome with type '<biome ID>'".
General
[
]
Hand animations have been added for the following:
Hand animations for the following have been removed:
Game now detects critical data pack issues, like missing required tags that prevent the world from being loaded.
Certain game mechanics, mainly a handful of different particles, have been modified to use 64-bit (double-precision) precision where they previously used 32-bit (single-precision).
As a result, the effects appear in the correct places even if the player is far away from the spawn point (with effects being the most extreme when over 16,777,216 blocks away).
The following precision loss errors are fixed:
Removed sweet berry bushes from the prevent_mob_spawning_inside block tag.
The piglin_loved item tag now uses the gold_ores item tag instead of listening gold ore and nether gold ore individually.
Added gold nuggets to the piglin_loved item tag.
Fixes
[
]
From released versions before 1.16
From the 1.16 development versions
From the previous development version
Trivia
[
]
This pre-release released exactly 2 years after the release of 1.13-pre1.
Video
[
]
Video made by slicedlime:
References
[
]